Dog friendly parks and trails in Chesapeake
Spring is here, the flowers are starting to bloom, and it is the perfect time to start dog walking in Chesapeake. Have you gone wary of walking the same boring route with your pooch? Fortunately for you, dog walkers in Chesapeake have an abundance of options when it comes to dog friendly trails and parks.
Chesapeake City Park
900 City Park Drive
Located in the rear of the park, the first park encompasses 1.5 acres of space for your dog to run free. It has a separate area for small dogs and medium-large area. It also has a watering station, so you pet can get a drink if need be.
The other dog park at Chesapeake City Park is located in the front of City Park. It also has two separate areas for small and large dogs. The park has a spacious feel with some nicely placed trees that make great shade.
Deep Creek Park
437 S. George Washington Highway
If you want to take a family outing to the park this is the perfect choice for you. The dog park is located right next to the playground, so the kids can play while the dog enjoys his time in the dog park. This park has plenty of benches for owners to rest while their dogs play. It also has a doggie drinking fountain.


Elizabeth River Park
1400 Elizabeth River Way
This park is located in South Norfolk. The park features an area for small dogs and another area for medium and large sized dogs. The park boasts beautiful views of the Elizabeth River. The park has .75 acres of space for the dogs to enjoy.
Western Branch Dog Park
4437 Portsmouth Blvd
This dog park is conveniently located. It is a great place to take your dog or some time of the leash. The park has water fountains and plenty of benches. The park is fully fenced in and has an adequate amount of shade.
Indian River Park Trail
Chesapeake, VA
This 1.6 mile lightly trafficked loop trail features a river and it is rated as moderate difficulty. Dogs are welcome on the trail as long as they are leashed. It is a great trail to visit if you are looking for a trail that is a little more challenging than the standard city owned trail.
Otter Point Trail Loop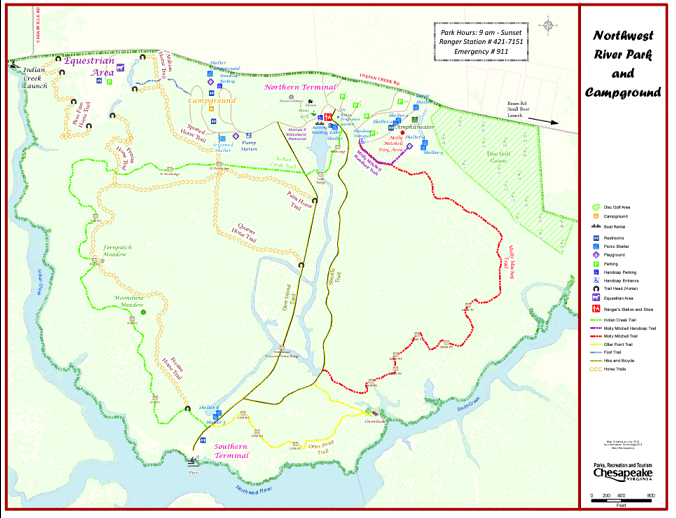 Chesapeake, VA
This 2.6 mile loop trail is ideal for all skill levels. The trail boasts beautiful views of the Northwest River. Dogs are welcome on the trail.

Spring is the perfect time of the year for your dog to get some fresh air. When you don't have time to take your dog out to explore , our Chesapeake dog walkers would love to take your dog out to explore your neighborhood.