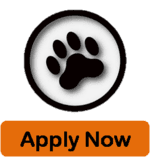 If you are interested in working for Bones N Belly Rubs please read our requirements below.
• You must live in our service area (Virginia Beach, Chesapeake, Norfolk)

• Must LOVE animals! Any animal care experience is a plus.

• Dependability is required to keep this job.

-This is a fun job but requires a higher level of reliability than most p/t jobs.

• Positive people only

• Have the ability to handle dogs of different sizes/breeds on leash

• Have the ability to walk long distances in different weather conditions
• A flexible schedule is a MUST.

• Must have reliable & INSURED transportation.

• Availability to work some Holidays is a REQUIRED

• Have access to the Internet and email is REQUIRED.

• Having a smart cell phone is REQUIRED. Must be able to send/receive calls and text messages daily.

-Must be able to download the app for our GPS check-in & check-out system.

• Must pass a background check

• GREAT references are a MUST and WILL be checked!

• Pays hourly plus mileage & tolls

• EXTRA compensation for holidays.

• Pet care discount is given to Pet Care Specialists with BNBR

Do you feel you have what it takes to join our professional team? Please fill in the application form below.